Success Stories
Bryan's Success Story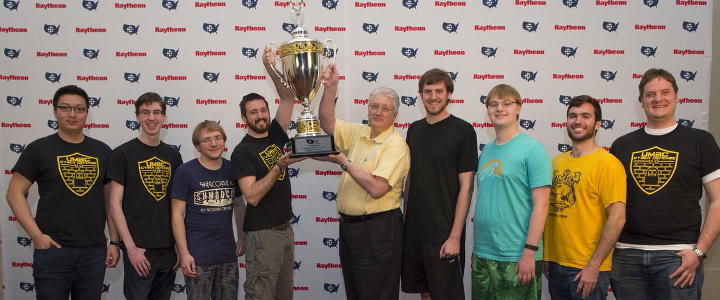 In Bryan's own words (far right):
For the past two years, I've had the pleasure of being a part of the Exerceo working groups. When I first started my venture at UMBC, I joined the Cyber Dawgs and got to know the president, Julio, well. I immediately grew interested in learning more about aspects of network security and system administration, and after attending a few meetings, Julio suggested I started coming to the working groups to further expand upon my knowledge base. And I can say without a doubt that my time with the working groups has been instrumental in my success as a student, and an industry professional.
As a student, the things that I learned in the Exerceo working groups proved to be extremely useful. The basics that I learned here for the cyber and system administration groups such as working with git and running through the bandit exercises were a great starting place for me to start expanding upon things I already knew about. The first unit testing and integration testing projects I was put on also helped me to improve my coding knowledge base, and allowed me to improve my proficiency with web programming languages and Java.
What's more, as an industry professional, I learned skills that proved to be invaluable for me in the field. Between the workshops that were set up for me to learn about Juniper firewalls to the full security audit that I was able to run on the infrastructure of Interclypse, an Exerceo sustaining partner, I learned so much that I've been able to use in other internships and cyber security competitions. In fact, if it weren't for the working groups, I likely wouldn't have had the appropriate knowledge to be able to aid our team in winning the National Collegiate Cyber Defense Competition in 2017. It's also quite likely that I wouldn't have had the background and courage to become the president of our schools Cyber Defense club if it weren't for the structure of the working groups and connections I've made within Exerceo.
My only hope is that more motivated and talented people will learn just how wonderful this Exerceo environment is, and will be able to get as much out of it as I have over the past two years. I wholeheartedly recommend this to anyone who does anything with computers on a day to day basis-whether you're brand new to the field or wanting to sharpen your skills.
Stay Informed
Exerceo continues to provide learning opportunities, success stories, and new initiatives. Stay informed by joining our mailing list.
Our Mission
Exerceo exists to lead and inspire others to transform society by extending relevant learning and mentorship into everyday lifestyle.